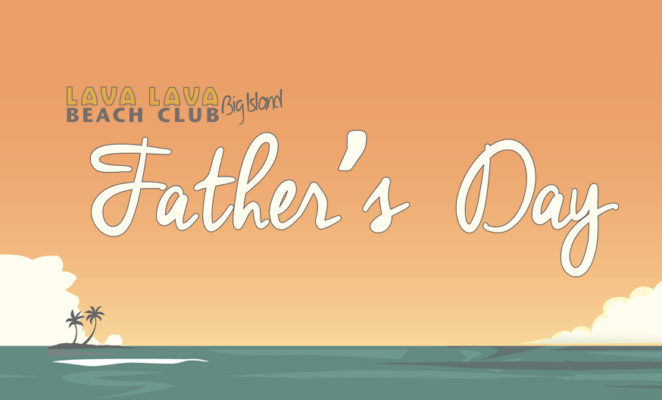 Join us on Sunday, June 16th for Fatherʻs Day Dinner & Brunch, where weʻre serving up a fantastic special menu alongside our regular dinner menu and brunch menu! With LIVE music and entertainment, what better way is there to celebrate your father this Fatherʻs Day?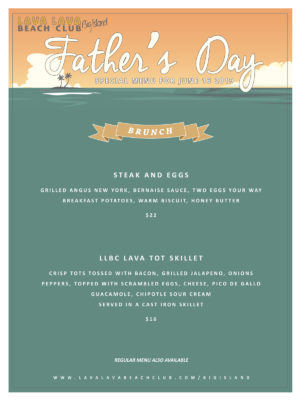 For Brunch:
Try the Steak and Eggs – Grilled Angus New York, Bernaise Sauce, Two Eggs Your Way, Breakfast Potatoes, Warm Biscuit, Honey Butter
Or try the LLBC Lava Tot Skillet– Crisp Tots Tossed with Bacon, Grilled Jalapeno, Onions, Peppers, Topped with Scrambled Eggs, Cheese, Pico de Gallo, Guacamole, Chipotle Sour Cream. Served in a Cast Iron Skillet

At Dinner:
For pupus try our delicious Bacon Wrapped Jumbo Shrimp with a Chipotle Honey Glaze, Lime-Cilantro Jicama Slaw
Also available will be two different entree choices alongside our regular dinner menu!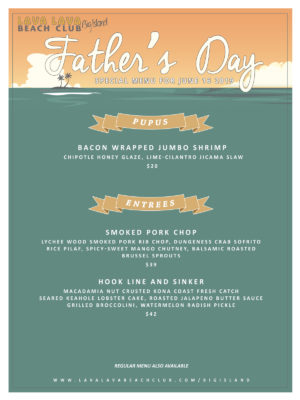 Try the Smoked Pork Chop – a Lychee Wood-smoked Pork Rib Chop, Dungeness Crab Sofrito Rice Pilaf, Spicy-Sweet Mango Chutney, Balsamic Roasted Brussel Sprouts
Or weʻre offering a Macadamia Nut Crusted Kona Coast Fresh Catch  (Hook, Line, and Sinker) – Seared Keahole Lobster Cake, Roasted Jalapeno Butter Sauce, Grilled Broccolini, Watermelon Radish Pickle.

Weʻll have live entertainment as well as our regular dinner menu and our delicious line of signature cocktails!
Dinner seating starts at 5PM so be sure to call ahead for reservations – 808-769-5282 (LAVA)!