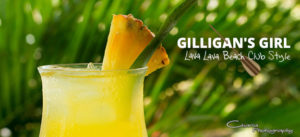 We love seeing it when people and friends from around the country had a great time and enjoyed our oceanside spot! Reecently we had two rave reviews and requests about a staff and fan favorite, the Gilliganʻs Girl!
The Daily Meal, a restaurant, recipe, food trend and travel guide, included us in their slideshow, the "Worldʻs Best Beach Bars" (#4) with this to say:
The Lava Lava Beach Club overlooks the Big Island's Anaeho'omalu Bay. It's regularly got live music, and it's known for having a solid cocktail menu. While the prices are a little bit up there, the drinks are worth it — they're poured strong. One of their signature cocktails is called a Gilligan's Girl, made with ginger, of course, and is served in a coconut cup. It's got a great beer and wine menu as well.
We also got a request for the Gilligan's Girl recipe by Casey from Washington state:
Hello there! My family and I visited several times while we were vacationing in Kona during July. I enjoyed a cocktail on your beach called Gilligan's Girl. It was yummy with a hint of Ginger. Would your bartender be willing to share the recipe? I'd love to mix one up, put my feet up on the patio, and dream that I'm back with you all (until we do return!). Thank you for considering this request.
We aim to please, so ask and you shall receive, Casey! Hope you enjoy your homemade Gilligan's Girl cocktail in Washington! Be sure to visit us again soon!
Gilligan's Girl Recipe
Lava Lava Beach Club has happy hour daily from 3-5 pm with drink and pupu (appetizer) specials along with daily live music. View our full bar menu here.
Whether youʻre enjoying a classic cocktail with us at Lava Lava Beach Club or at home, we hope you are able to do it with sand between your toes, to get the full Lava Lava Beach Club experience!