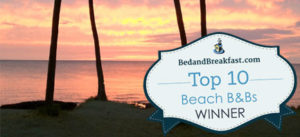 Bed & Breakfast.com has released its annual top 10 beach boutiques in the world and Lava Lava Beach Club is among them. The news arrived today with this note:
"Congratulations! You've been chosen as one of the Top 10 Beach B&B award winners. Your inn has gone above and beyond to give a premiere beach experience."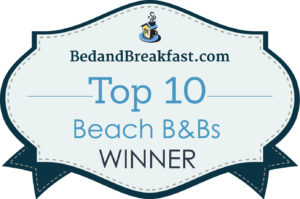 Lava Lava Beach Club is one of six U.S. properties to be selected for the prestigious award – on e of two in Hawaii – and joins chic, luxury boutique resorts in France, Canada and Mexico to round out the list.
News of the award will reach some 600,000 travelers around the globe – and we look forward to welcoming all of them here at some point!
The article reads in part:
"The ultimate relaxing getaway usually involves a sumptuous B&B overlooking a pristine beach and inviting water. These accommodations will soothe the senses and transport guests to their version of paradise.

"Located on Anaeho'omalu Bay in Waikoloa Beach Resort, Lava Lava Beach Club is the B&B destination for laid back food, drink and celebration. These luxurious beachfront cottages encourage guests to roam from bed to breakfast to beach, or to simply lounge in the shade of a private lanai and bask in the most beautiful sunset over the ocean. The four contemporary Hawaiian cottages were individually designed and decorated with a relaxed "New Island" décor of vibrant hues and artwork celebrating Hawaiian water sports.

"The Beach Club restaurant is nearby and serves relaxed island cuisine throughout the day. Live music, handcrafted cocktails and the daily happy hour pupu menu get the party going in the evening."
Click Here to view all of the top 10 winners on the BedandBreakfast.com website.