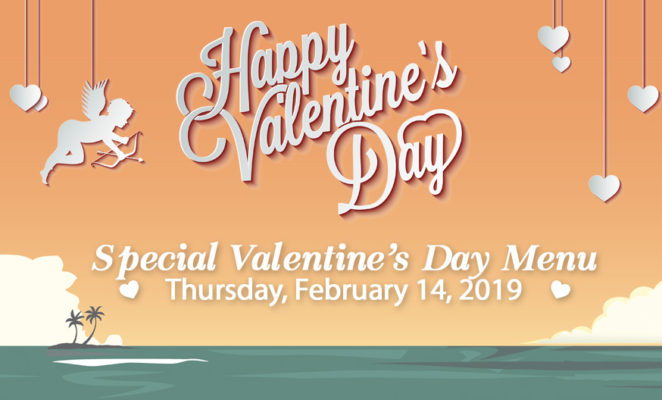 Join us on Thursday, February, 14th 2019 for a special Valentineʻs Day menu put together by our stellar culinary team! It will feature locally grown produce and some of the Big Islandʻs freshest seafood! Weʻll have our regular menu as well as this special one available on Valentineʻs Day! Celebrate your love at Lava Lava Beach Club in Waikoloa!
Choose from:
Stuffed Jumbo Prawns
Fresh Kona Shrimp Roasted with Red Crab Sweet Spicy Cashew Butter, Meyer Lemon Vinaigrette
Balsamic-Date Short Ribs
Beef Short Ribs Braised with Balsamic and Dates Creme Fraiche Polenta, Wilted Local Greens
Hook Line and Sinker
Smoked Paprika Seared Kona Coast Fresh Catch & Scallops, Keahole Lobster Risotto Cake, Green Peppercorn Butter Sauce, Heirloom Cherry Tomato Salad
Chocolate Decadence Heart Duo
Raspberry Sauce, Vanilla Crème Anglaise
Reservations are HIGHLY recommended and can ONLY be made by calling us at 808-769-5282(LAVA)!