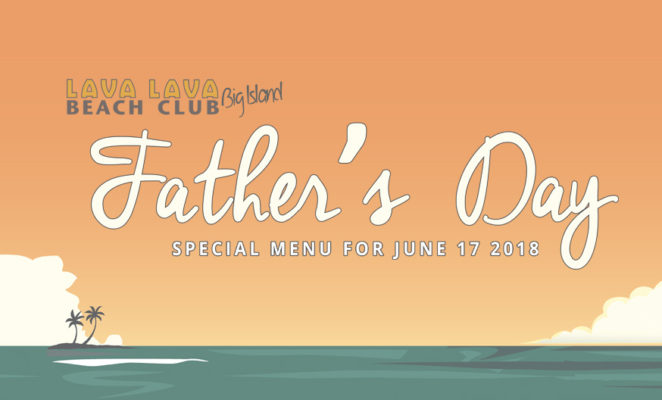 Join us on Sunday, June 17th for Fatherʻs Day Dinner & Brunch, where weʻre serving up a fantastic special menu alongside our regular dinner menu and brunch menu! With LIVE music and entertainment, what better way is there to celebrate your father this Fatherʻs Day?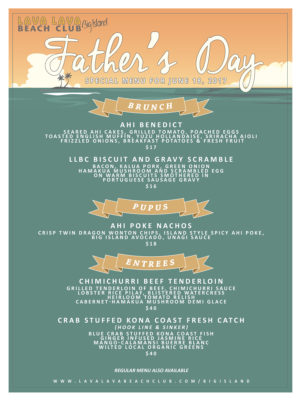 For Brunch:
Try the Ono-Licious Bao Bun Benedict – Kona Fresh Catch, Grilled Bao Bun, Poached Eggs, Asparagus, Yuzu Hollandaise, Garlic Potato Medley
Or try the Biscuits and Gravy Skillet– with Buttermilk Biscuits, Uncle Richard's Portuguese Sausage Gravy, Tots, Cheddar, Two Eggs Your Way Served in a Cast Iron Skillet.
At Dinner:
For pupus try our delicious Spicy Pineapple Shrimp with Jumbo Shrimp Skewers, Pineapple Sambal, Crisp Rice Noodle!
Also available will be two different entree choices alongside our regular dinner menu!
Try the Tomahawk Ribeye for Two – a Peppercorn crusted Dry-aged 24oz Ribeye Steak, Cambozola-Garlic Mashed Potatoes, Roasted Hamakua Ali'i Mushroom and Watercress, Balsamic Demi Glaze, Maui Onion Ring .
Or weʻre offering a Roasted Jalapeno Marinated Kona Coast Fresh Catch  (Hook, Line, and Sinker) – Seared Lobster-Crab Cake, Steamed Red Rice, Wilted Chard, Mango Pina Colada Butter Sauce, Grilled Corn and Asparagus Salad.
Weʻll have live entertainment as well as our regular dinner menu and our delicious line of signature cocktails!
Dinner seating starts at 5PM so be sure to call ahead for reservations – 808-769-5282 (LAVA)!