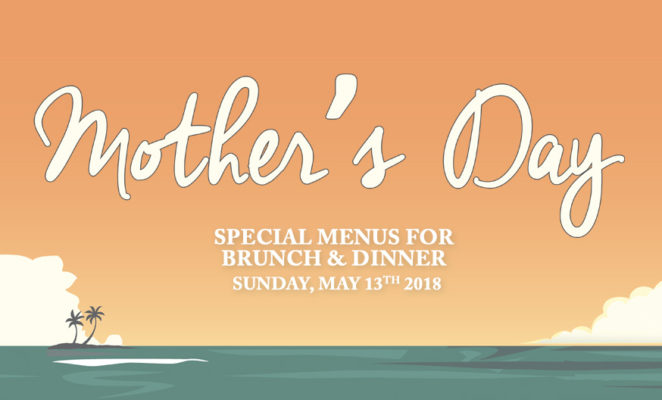 On Sunday, May 13th, Lava Lava Beach Club in Waikoloa welcomes you to celebrate Motherʻs Day the Lava Lava Beach Club way! Weʻre offering special brunch AND dinner menus alongside our regular menu to help you celebrate Mom!
Join us for Brunch from 10AM – 2PM with your choice of Ono-Licious Bao Bun Benedict, Bananas Foster French Toast, OR choose from our delicious brunch menu!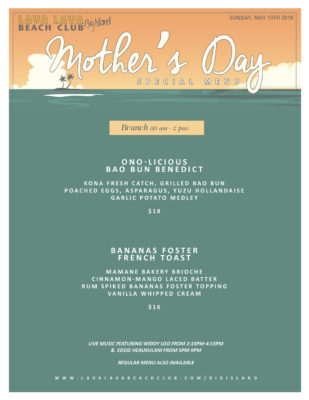 Ono-Licious Bao Bun Benedict – Made with Kona Fresh Catch, Grilled Bao Bun, Poached Eggs, Asparagus, Yuzu Hollandaise, Garlic Potato Medley
Bananas Foster French Toast -Mamane Bakery Brioche, Cinnamon-Mango Laced Batter, Rum-spiked Bananas Foster Topping, Vanilla Whipped Cream
You can also join us for a special Motherʻs Day Dinner Menu featuring Seafood Bisque, our famous Hook Line and SInker, a Beef Tenderloin or choose from our regular dinner menu!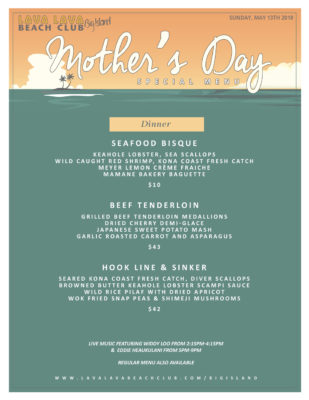 Seafood Bisque – Keahole Lobster, Sea Scallops, Wild caught Red shrimp, Kona Coast Fresh Catch, Meyer Lemon Crème Fraiche, Mamane Bakery Baguette
Beef Tenderloin – Grilled Beef Tenderloin Medallions, Dried Cherry Demi-Glace, Japanese Sweet Potato Mash, Garlic Roasted Carrot and Asparagus
Hook, Line, and Sinker – Seared Kona Coast Fresh Catch, Diver Scallops, Browned Butter Keahole Lobster Scampi Sauce, Wild Rice Pilaf with Dried Apricot, Wok-fried Snap Peas and Shimeji Mushrooms
Be sure to see our FULL Menu and Bar Menu to see what else we offer!
We recommend making reservations by calling 808-769-LAVA (808-769-5282)!
See you there!