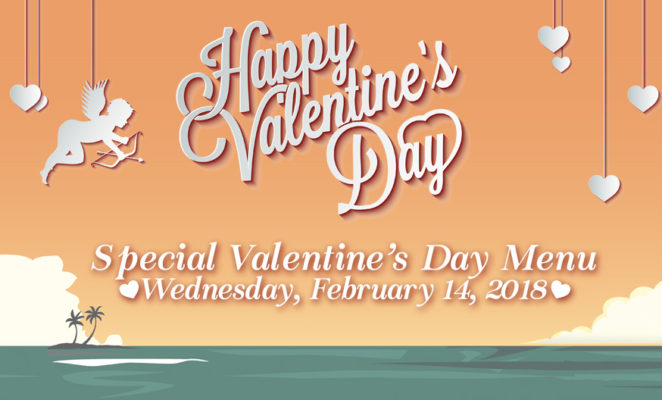 Join us on Wednesday, February 14th 2018 for a special menu put together by our stellar culinary team! It will feature locally grown produce and some of the Big Islandʻs freshest seafood! Weʻll have our regular menu as well as this special one available on Valentineʻs Day! Celebrate your love at Lava Lava Beach Club in Waikoloa!
Choose from:
Charcuterie Board
House-made Portuguese Sausage, Mild Dry Salami, Imported Prosciutto, Spiced Almonds, Hawaii Island Goat Dairy Cheese, Dried Fig and Cherry Compote, House-made Semolina Crackers
Seafood Puttanesca
(Hook Line and Sinker)
Seared Kona Coast Fish atop White Anchovy, Cured Olive and Kawamata Tomato Puttanesca tossed with Oysters, Wild Caught Shrimp over a bed of Linguini.
Mauka to Makai
Grilled Tenderloin of Beef with Ulu-Gorgonzola Demi Glace, Aleppo Pepper seared Dry Scallops with Salted Caper brown butter sauce, Lobster risotto, Carrot-Jicama-Pea Shoot Salad.
Chocolate Decadence Heart Duo
Raspberry Sauce, Vanilla Crème Anglaise
Reservations are HIGHLY recommended and can ONLY be made by calling us at 808-769-5282(LAVA)!