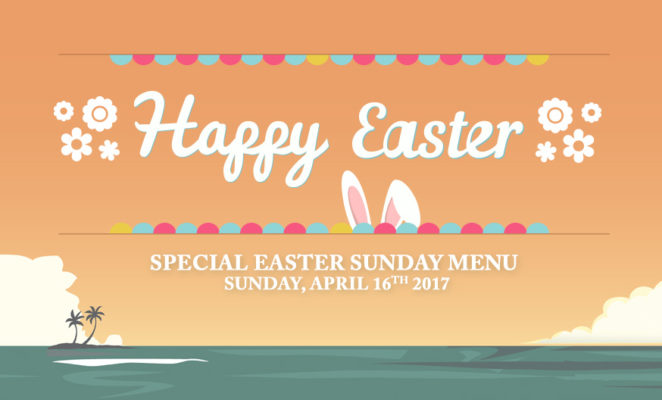 Join us for TWO amazing Easter menus on Sunday, April 16th, 2017 at Lava Lava Beach Club in Waikoloa! Weʻre serving a special BRUNCH menu as well as a DINNER menu to help celebrate Easter! Come for brunch, stay for dinner!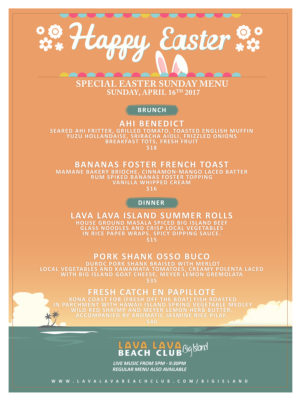 For BRUNCH (alongside our regular brunch menu) choose from:
Ahi Benedict – Seared Ahi Fritter, Grilled Tomato, Toasted English Muffin, Yuzu Hollandaise, Sriracha Aioli, Frizzled Onions, Breakfast Tots, and Fresh Fruit
Bananas Foster French Toast – Mamane Bakery Brioche, Cinnamon-Mango Butter, Rum Spiked Banans Foster Topping, Vanilla Whipped Cream
For DINNER (alongside our regular dinner menu) choose from:
Lava Lava Island Summer Rolls – House ground Masala spiced Big Island beef, glass noodles and crisp local vegetables in rice paper wraps. Spicy dipping sauce
Pork Shank Osso Buco – Duroc Pork Shank braised with Merlot, Local Vegetables and Kawamata Tomatoes, Creamy Polenta with Big Island Goat Cheese, Meyer Lemon Gremolata
Fresh Catch en Papillote (Hook Line and Sinker) – Kona Coast FOB (Fresh Off the Boat) Fish Roasted, Hawaii Island Spring Vegetable Medley, Wild Red Shrimp and Meyer Lemon Herb Butter and Jasmine Rice Pilaf.
Weʻll have LIVE music from 5PM – 9:30 and will also have our regular menu available!
Reservations are HIGHLY recommended – 808-769-5282!