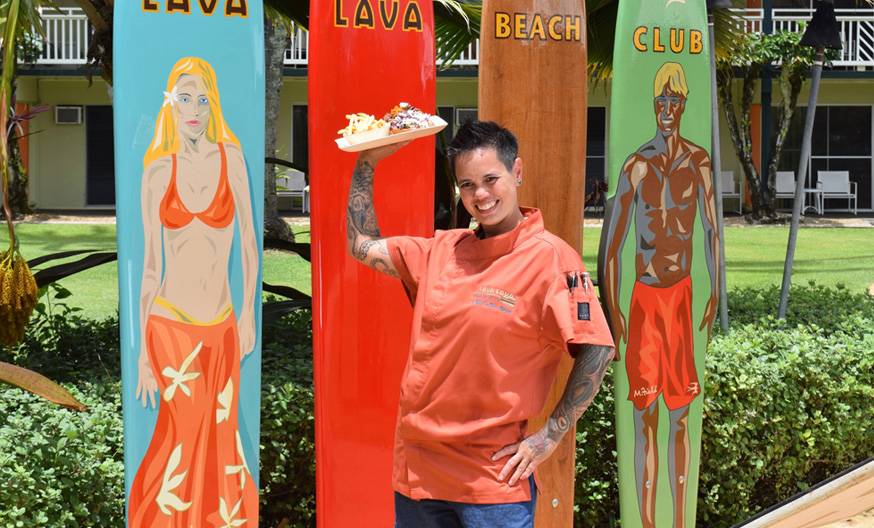 Recently, Megan Fox, of Malama Kauai, came to interview Head Chef Kim Brun about her experience working for Lava Lava Beach Club – Kapa'a in here article Lava Lava Beach Club: Local Girl, Local Food
We were happy to read about all of Chef Kim's experiences leading up to her job as Head Chef here in Kapa'a and invite you to read the FULL article by clicking here.
Included in the article is Chef Kim and Lava Lava Beach Club's commitment to using fresh local ingredients.
Kim tries to use as much local as she can, including produce from Kauai Fresh Farms, Makaweli Meat Co., and fresh catches from local fishermen. She also stops by the nearby farmers market, and purchases from "whoever walks in the door" with their freshly picked harvests.'Fresh food just tastes better,' she says.
We try to utilize only fresh local ingredients for our homemade dishes that are made from scratch DAILY!
With inspiration from local ingredients and the ocean, Chef Kim tries to keep the specials innovative and new! Megan does a great job of including some of our more recent specials and points out that the Hook, Link and Sinker is our chef's daily special that highlights local ingredients and features freshly caught fish!
Another aspect of Chef Kim's approach to cooking at Lava Lava Beach Club the article touched on is how she pairs the Hook, Link, and Sinker with the daily 'Okole Maluna (Bottoms Up!) special!
"Chef Kim gets to play with the daily specials, and even collaborates with the bar to pair their drink and food specials for the day."
Join us in saying "Mahalo Nui Loa" (Thank you VERY much!) to Megan Fox for coming to interview Chef Kim!