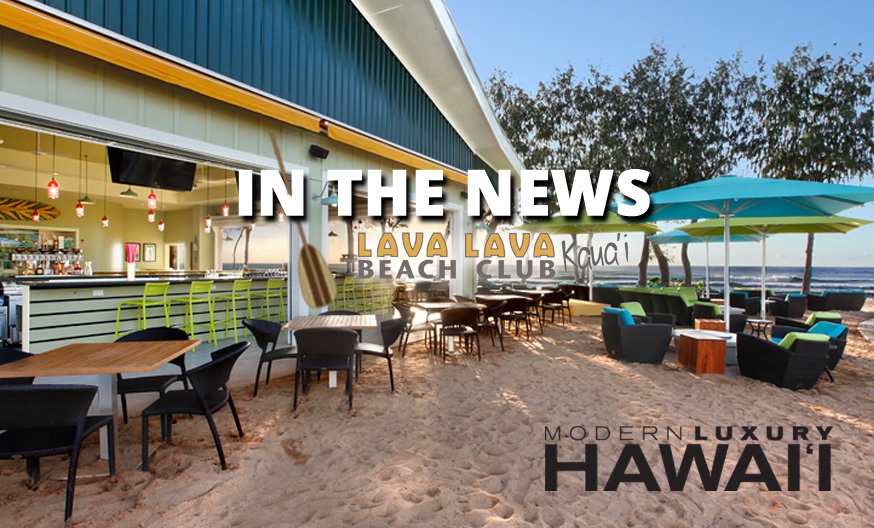 When we found out we were mentioned in Modern Luxury Hawaii Magazine in their May/June 2016 issue, in the "NOW" section, we were elated and surprised! The article, which appears on page 44, mentions our flagship location, Lava Lava Beach Club in Waikoloa, and our "Toes-in-the-Sand" motto!
The article reads in part:
"Following more than five years of beach-chic success on Hawai'i Island's toney Kohala Coast, the Lava Lava Beach Club team has brought the same toes-in-the-sand-vibe to Kauai's iconic Coconut Coast. The Kaua'i outpost takes a sleeker and more contemporary design in comparison to the original plantation-style look on Hawaii Island. Do expect the same fresh, innovative food dishes and handcrafted signature cocktails, however."
You can see the full article here by viewing their digital edition! 
Mahalo to Margaret Kearns for the kind words and for sharing your experience with the rest of Hawaii!
We invite you to join us at our Kauai location as well as our Big Island location any time!
We offer Happy Hour DAILY from 3 -5PM with LIVE music nightly! 
Come on down and get your toes in the sand!