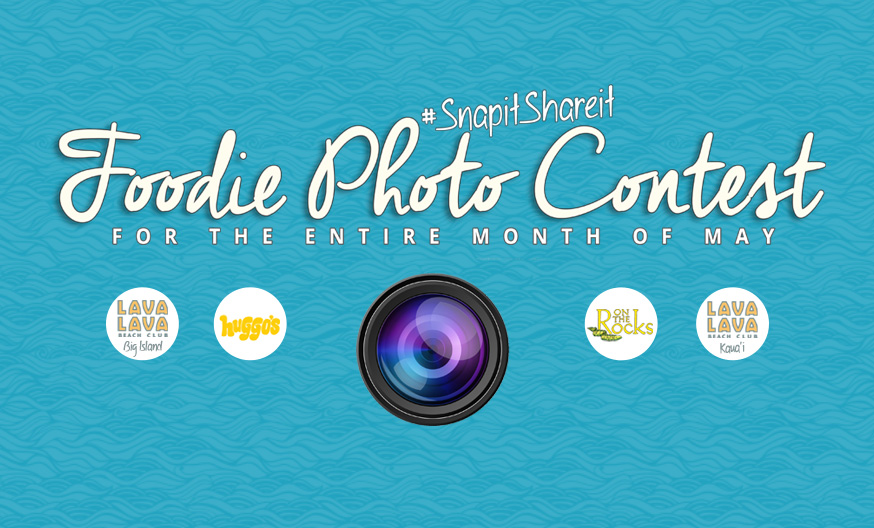 Join us in a "Foodie Photo Contest" at Lava Lava Beach Club – Waikoloa, Huggoʻs, Lava Lava Beach Club – KauaʻI, and On the Rocks during the Month of May*! Weʻre giving away a total of eight (8) $500 gift cards to winners for Best Food & Beverage Photo AND Best Ambiance Photo at each restaurant – with a special BONUS for doing the Kauai to Kohala in a Day Photo!
Best Food and Beverage Photo/ Best Ambiance Photo – 8 $500 Gift Certificates
All you need to do to enter is post a photo to Instagram or Facebook AND use the hashtag #SnapItShareIt and tag one of our locations! Photo must be posted to a public social media profile (Instagram or Facebook) with the correct hashtag. Only photos submitted during the month of May will be considered. Limited to 1 Winner per location per photo submitted!
KauaʻI to Kohala in a Day – $50 Prize
This is a special opportunity for the lucky traveler (or travelers) who are able to post a picture of themselves with a staff member or manager at BOTH Lava Lava Beach Club Locations – Coconut Coast and Waikoloa – with a Bloody Mary or Mai Tai! Youʻll need to tag BOTH locations and take a photo with a manager and use a public social media profile using the #SnapItShareIt hashtag!
Winner will be announced on Facebook, Twitter, Instagram and Google+. There must be 100 entires per location. *We reserve the right to extend the competition if there are not enough entries per location. Employees, staff, and those related to them are not eligible to win. If the winner would like to or is unable to use the gift certificate, they can choose to have their gift certificate donated to one of our favorite charities!