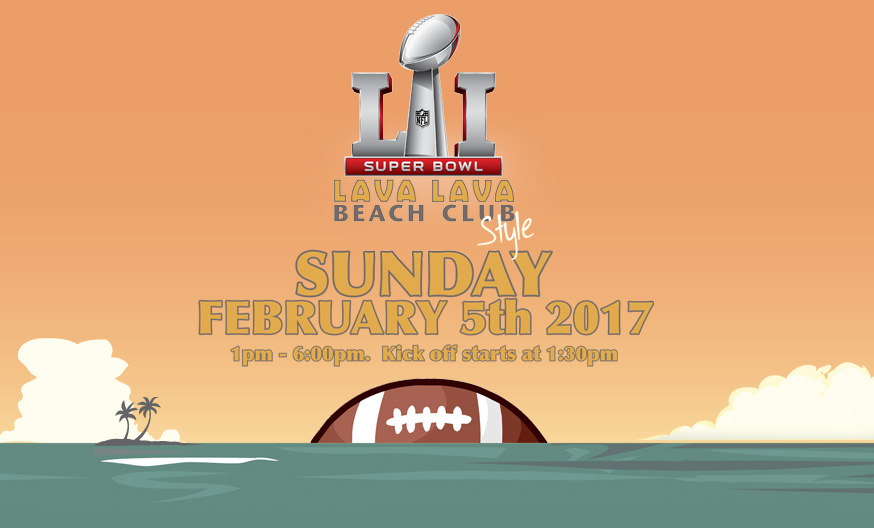 Join us for Super Bowl LI at Lava Lava Beach Club in Kauaʻi on Sunday February 5th! Kick off is at 1:30!
Weʻre serving up a special Super Bowl Kick Off menu to get things going – it will be available from 1PM to 6PM!
Youʻll be able to choose from three delicious choices –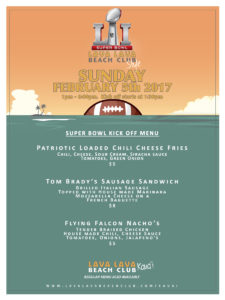 Patriotic Loaded Chili Cheese Fries
Chili , Cheese , Sour Cream, Siracha sauce, Tomatoes, Green Onion
Tom Brady's Sausage Sandwich
Grilled Italian Sausage, topped with House made Marinara
Mozzarella Cheese on a French Baguette
Flying Falcon Nacho's
Tender Braised Chicken, House made chili, Cheese Sauce, Tomatoes, Onions, Jalapeno's
Be sure to get in early as we know the spots will be filling up fast! You can give us a call for reservations at 808-241-5282 (LAVA)!
See you there!