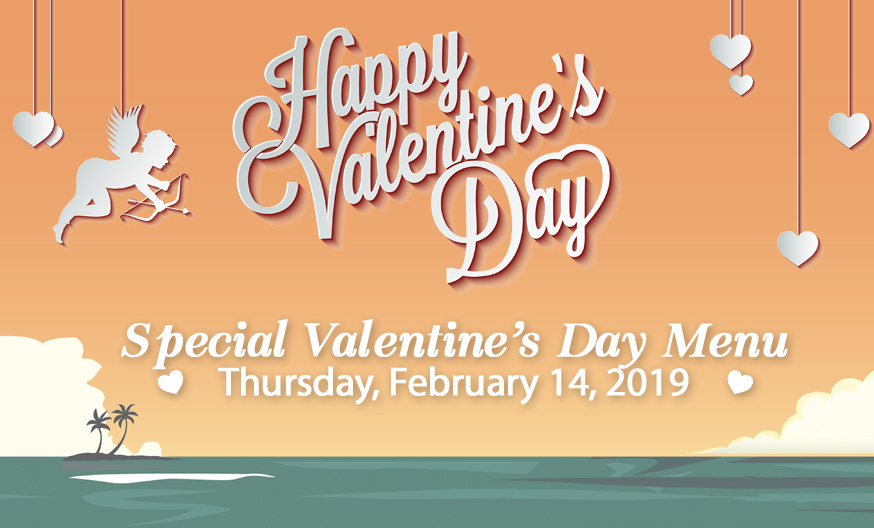 Weʻd like to invite you to celebrate your 2019 Valentineʻs Day with us! Weʻre serving up a special a la carte/prix fixe menu that weʻre SURE youʻll love! Weʻll be serving this menu alongside our regular menu on Thursday, February 14th in observance of Valentineʻs Day!
You have the option to order menu items a la carte (individually) OR get all courses in our prix fixe option!
For the first course, we have a Lobster Ravioli made with Coconut Curry Parsnip Puree, Champagne Basil Sauce, Butter Poached Lobster.
The second course features a choice of Filet and Lobster Oscar  – a Demi Place, Mash Potatoes, Roasted Green Beans and Cauliflower with a Bernaise Sauce OR the Hook Line and Sinker (Crab Stuffed Jumbo Tiger Prawns) – featuring Lemongrass Scented Cauliflower Puree, Roasted Asparagus, Creamy Polenta, Yuzu Lilikoi Buerre Blanc.
For dessert, try the Marscapone Cheese Panna Cotta – a Classic Panna Cotta topped with Carmalized Strawberries!
Alongside this 'ono (delicious) menu, we're going to feature four Valentine's Day Themed cocktails (See the menu below!):
Lavender & Rose Martini
Love Potion
Heart Throb
Love You Long Time
Because of this special day we will have no happy hour and will open for dinner at 4:00PM!
Be sure to call ahead for RESERVATIONS as weʻre sure to fill up FAST – 808-429-5282!