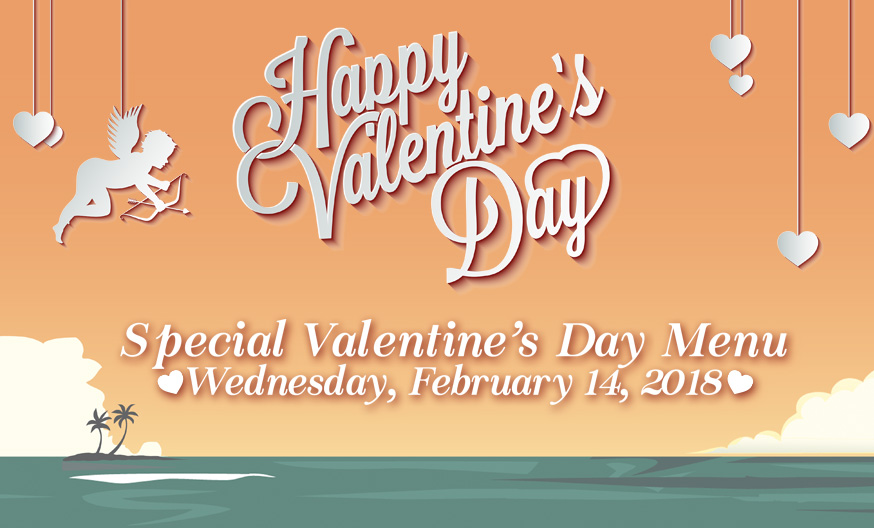 Weʻd like to invite you to celebrate your 2018 Valentineʻs Day with us! Weʻre serving up a special a la carte/prix fixe menu that weʻre SURE youʻll love! Weʻll be serving this menu alongside our regular menu on Wednesday, February 14th in observance of Valentineʻs Day!

You have the option to order menu items a la carte (individually) OR get all courses in our prix fixe option!
For the first course, we have a Quattro Formaggio Gnocchi made with Parmesan-gratineed Four-cheese Gnocchi with Tomato Pancetta Sauce.
The second course features a choice of Braised Short Ribs or Grilled Ahi! The ribs are Cabernet-braised Short Ribs, served with a medley of Roasted Baby Carrots, and Roasted Garlic Chive Mashed Potatoes.  The Ahi option is Grilled Ahi with Miso Ginger Glaze, Pancetta Butternut Squash and Roasted Garlic Chive Mashed Potatoes.
For dessert, try the Parsnip Panna Cotta – a Classic Panna Cotta topped with Turmeric-spiced Honey and Sable Cookie.
Alongside this 'ono (delicious) menu, we're going to feature three Valentine's Day Themed cocktails:
Heart Throb – Prosecco, St Germaine, hibiscus and chocolate covered strawberries.
Love Potion – Godiva White Chocolate, Rumchata, Vanilla Vodka, Strawberry Puree, shaken and served in a martini glass.
Bloody Valentine – Blood Orange Vodka, pama liqueur, muddled mint and strawberries, pitaya, fresh lime juice and lilikoi.
Because of this special day we will have no happy hour and will open for dinner at 4:00PM!
Be sure to call ahead for RESERVATIONS as weʻre sure to fill up FAST – 808-429-5282!