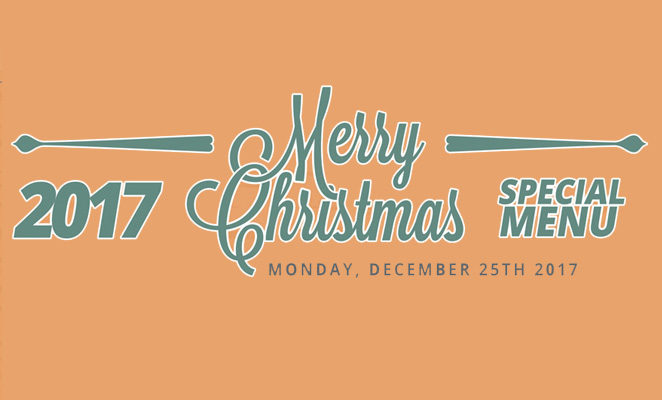 Join us for a special Christmas Eve and Christmas Day Menu at Lava Lava Beach Club – Kauaʻi! Weʻre serving up two delicious entree choices as well as a special pupu and dessert – alongside our regular menu! Be sure to make reservations!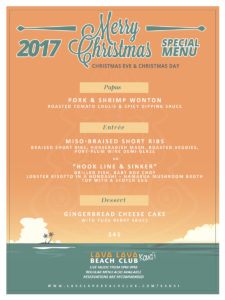 To start, try one of these cocktails created by the 2015 winner of Kauaiʻs Finest Bartender, Nilo Badua:
Hot Cocoanuts – House made cocoa with dark and white chocolate, coconut milk, vanilla with a toasted marshmallow.
Snow White Martini – Rumchata with peppermint and vanilla vodkas. Shaken and served in a chilled martini glass.
Bubbly Winter Land – Prosecco, St. Germaine Elder Flower, fresh squeezed tangelo with an amarena cherry.
Reindeer's Punch – Koloa spiced rum, citrus vodka, pomegranate liqueur, house made punch, with sparkling cranberry and ginger.
Santa's Hat – Hennessy cognac, Amaro Nonino Quintessentia, Grand Marnier, orange bitters, fresh squeezed ruby red juice with a hint of cinnamon.
For your pupu option, we have a Pork & Shrimp Wonton served with Roasted Tomato Coulis and Spicy Dipping Sauce.
For your entree choices we have Miso-Braised Short Ribs – Braised Short Ribs, Horseradish Mash, Roasted Veggies, Port-Plum Wine Demi Glaze OR our Hook Line & Sinker – Grilled Fish, Baby Bok Choy, Lobster Risotto in a Hondashi – Hamakua Mushroom Broth Topped with a Scotch Egg.
And for dessert, a tasty Gingerbread Cheese Cake with Yuzu Berry Sauce
On both Christmas Eve and Christmas Day, weʻll have our regular Breakfast menu available, with Lunch served until 3PM, no Happy Hour, and Dinner service beginning at 4PM!
Give us a call for reservations – (808) 241-5282 OR make a reservation online!