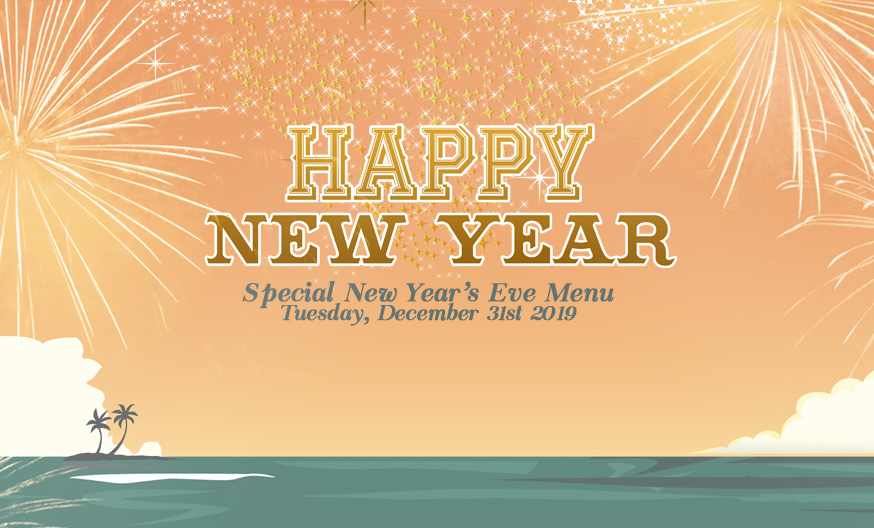 Join us for a special menu for New Yearʻs Eve, right on the beach!!! Weʻll have our regular menu as well as special menu just for New Yearʻs!!Weʻll have a three course meal option where you can get the Hawaiian Ahi Tower OR a Festive Season Salad for your appetizer, choose from a Blackened Ribeye OR our Hook Line & Sinker Special AND try our delicious Chocolate Soufflé s for dessert!
The Hawaiian Ahi Tower will have a Local Ahi Tuna, Avocado, Sushi Rice, Cucumber, Cilantro, Unagi Drizzle!
The Festive Season Salad will feature Kula Greens, Citrus Poached Kauai Shrimp, Roasted Butternut Squash, Pomegranate, Toasted Mac-Nut, Mango Vinaigrette
The Pork Chop will come with a Mushroom Medley, Parsnips, Butternut Squash Puree and a Citrus Salsa!
Or, if you choose the Hook Line & Sinker, start with – Ginger Crusted Kauai Fresh Catch, add Shiitake Fried Rice, Stir Fried Vegetables, Kabayaki Sauce, and Scallion Oil Drizzle!
To end your night with a bang, try the Chocolate Soufflé with a Raspberry Coulis, and served with Lappert's Vanilla Bean Ice Cream!
Be sure to try one of our tasty cocktails created by one of Kauaiʻs Finest Bartenders – Nilo Badua!
Reservations are taken (for after 5PM – NO Happy Hour) and recommended – 808-241-5282(LAVA)!