Management Team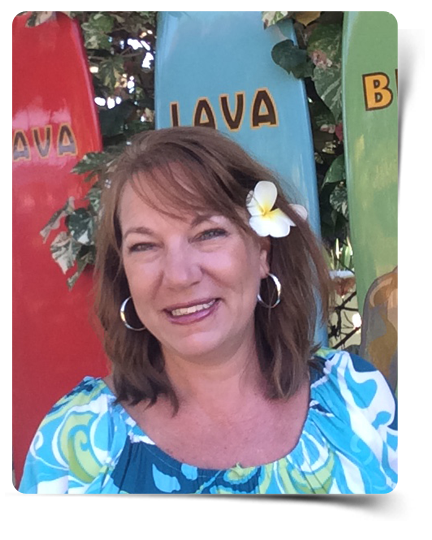 Kim Graybill, Club Manager
Kim grew up in a small-town North of Chicago and traveled to Hawaii numerous times thanks to her mother's love of the islands (and travel benefits with her job at United Airlines). She made a permanent move to Maui in 1994 where she lived for for 12 years. There, she gained experience in wedding coordinating, event planning and mixology. She landed a prestigious opportunity as the Lead Bartender for the Maui Film Festival that hosted premiere food & drink events for the stars & elite! She ended up with Tommy Bahama and was quickly promoted to a manager. This gave her an opportunity to relocate to Hawaii Island in 2006. After 16 years in the corporate world, Kim decided it was time to truly "Relax" and joined the LLBC team in June of 2017.
When Kim isn't getting sand between her toes, she is enjoying all that Hawaii life has to offer- spending time at the beach, hiking, exploring, gardening and travel. She makes frequent visits to Maui to visit her son and lifelong friends. Her favorite spot to spend time is at her historic plantation home in North Kohala that she shares with her partner. Hosting family and friends for an abundant feast and inspired cocktails is one of her favorite past times!
Culinary Team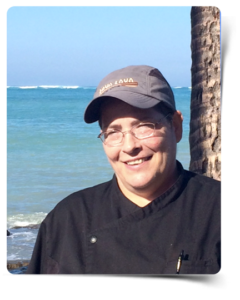 Beth Fuller, Executive Chef
Beth started cooking at the early age of 13 and by 18 was already a sous chef at an elegant French restaurant.  Add to that experience, a stint with the United States Marine Corps, an executive chef position or two and even General Manager of a restaurant and you have a well rounded Culinary Professional.
Chef Beth, who recently moved to the Big Island with her partner, wisely takes a moment each day before work to gaze out at the beauty we are all fortunate to experience while dining and working at Lava Lava Beach Club.   In her free time, Beth is a certified master gardener and enjoys raising edible flowers.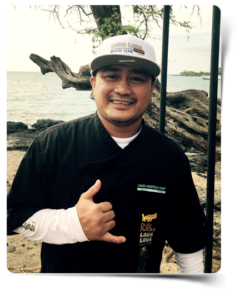 Eric Ramos, Sous Chef
Eric Ramos was born in Philippines and came to Hawaii in 1989. After working at numerous restaurants and hotels, he came to LLBC and found his home. Starting off as a line cook, supervisor and now sous chef, Eric has a unique understanding of the high volume production that comes from the kitchen.
He particularly enjoys creating many of the nightly seafood specials. His grandfather taught him to cook with love and if you ask anyone who orders his "Hook Line and Sinker" you will understand how the passion comes thru.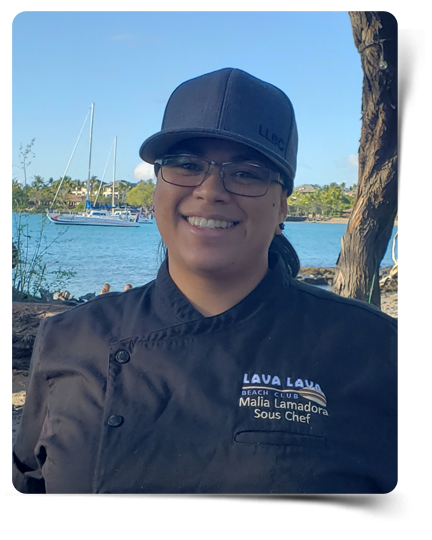 Malia Lamadora, Sous Chef
Malia was born & grew up Maui where she attended the Maul Culinary Academy & graduated with honors. This led her to Hali'imaile General Store where she was mentored by owner & Chef who is credited for being one of the founders of Hawaii Regional Cuisine.
She relocated to the Big Island in 2006 & has worked in several successful restaurants in the Hilo district. Her background & knowledge also landed her a position in Ketchikan, Alaska as a Sous Chef for a season with an exclusive resort.
In 2016 she came on board with Lavas as a kitchen supervisor, her talents were quickly recognized & three months later was promoted to Sous Chef. She brings a passion for highly detailed, beautifully presented food to her team.
When Malia is enjoying time outside of work, she likes to spend it with family & friends & ride her beloved horses.
Cottage and Special Events
T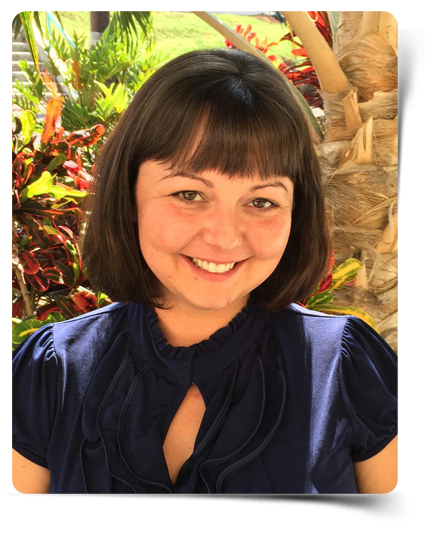 ina Saxon, Cottage Specialist and Special Event Coordinator
Family, food, and adventure, these are my passions. My love for delicious food was inspired by my parents. My father prepared the most amazing island cuisine with me by his side. My mother who is from New Orleans gave our home a Cajun flair. My passion for cooking came at a young age. Today I enjoy cooking for my family and friends. Although I was born and raised in South Carolina, my Hawaii roots were planted by my father who is an Oahu native.
Each time I visited the islands it became clearer and clearer that I would make Hawaii home. I moved to Hawaii Island in January 2014 and joined Paradise Gourmet Catering shortly after. In my free time, my husband Eric, my beautiful daughter Bailey, our two dogs and I love exploring every inch of our incredible island.
Our Leadership Team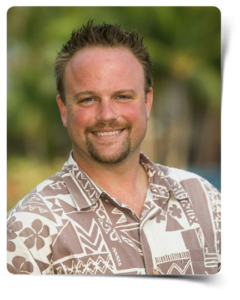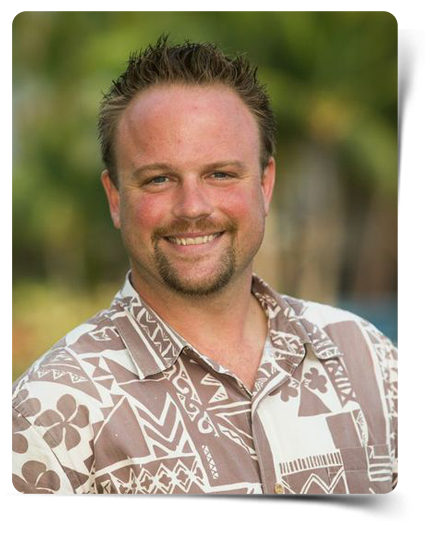 Nick Roschi, Director of Operations
Nick hails from Erie, Pennsylvania and has been a lifer in the hospitality industry. He started his career at Jr's On The Bay in Erie, then bounced around the Great Lakes region with the popular steakhouse concept, Texas Roadhouse.
Nick moved to Hawaii in 2006 and managed the popular Waikiki restaurants Tikis Grill and Bar and The Cheesecake Factory. Nick moved to the Big Island in 2010 with Tommy Bahamas and fell in love with the island! He enjoys time with his wife Venus and his kids in his off time and finds the waters of the big island as a necessary balance to a stressful week.
After successfully opening Lava Lava Beach Club, Nick now oversees the operations of not only Lava Lava Beach Club but also Huggo's, On The Rocks, Paradise Gourmet Catering and Grass Shack Parties.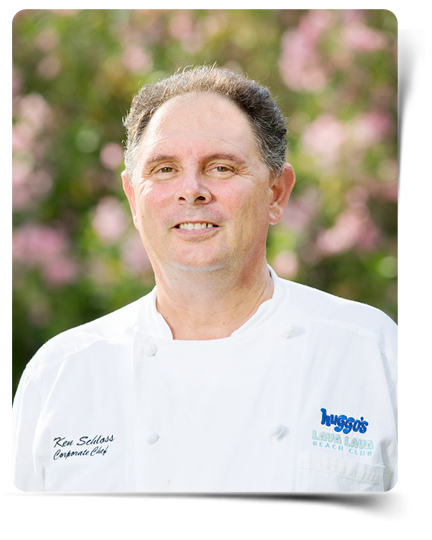 Ken Schloss, Director of Culinary and Corporate Chef
Originally from the San Francisco Bay area, Chef Ken brings nearly thirty-five years of experience to Lava Lava Beach Club.  Born and raised in wine country, Chef Ken worked in Napa Valley for most of his career. He also took five years and explored the cuisine of the Caribbean, gathering new ideas of parallel tropical latitude as culinary inspirations.
Chef Ken works directly with the Chef de Cuisine and sous chefs to create our menu items as well as work with our vendors to ensure our family of restaurants get the best possible products from local farmers and fishermen.