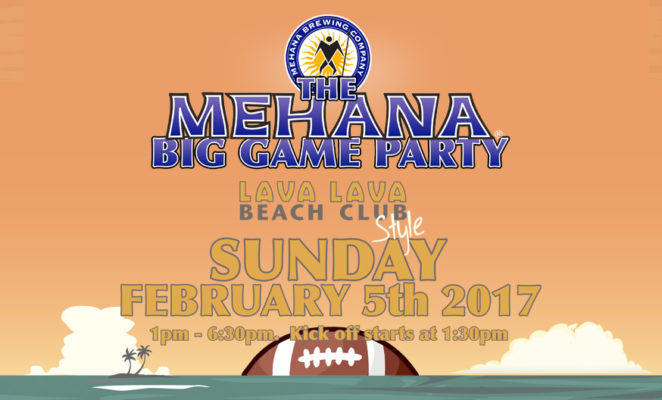 Join us for The Mehana Big Game Party at Lava Lava Beach Club's event lawn on February 5th from 1PM – 6:30PM (Kick Off starts at 1:30PM). Event tickets will be sold at the restaurant. They are $100(+TAX) for an individual and $1,000(+TAX) for a reserved table of 8!
We will have an awesome array of food and beers from Mehana Brewing Company as well as our signature Lava Lava Beach Club Cocktails! We'll also be serving some quarterly treats too – check out the line-up below:
Kick Off
Caesar Salad Hearts of Romaine Tossed with Parmesan and Garlic Croutons
Penne Pasta Salad with Grilled Vegetables and Pesto
Molokai Sweet Potato Salad with Mango Chutney
Fresh Fruit Salad
1st Quarter
Build Your Burger
Half Pound Black Angus Burger
Build it yourself with a line up of all star condiments
Tomatoes Cheese Mushrooms Carmelized Onions Jalapenos and more
2nd Quarter
Spicy Honey BBQ Chicken
Served up with a Splash of Jack Danels Honey and Grilled Pineapple
Teriyaki Skirt Steak A Huggo's Tail Gate Favorate since 1969
Fresh Catch of the Day topped off with LLBC Pineapple Mango Relish
3rd Quarter
Roasted Red Potatoes with fresh herbs and garlic
Fresh Corn on the Cobb
Green Beans and Bacon with onions
Baked Tomatoes topped with Parmeasn and Herbs
4th Quarter
Mango Cobbler served up with loads of whipped cream
Pineapple Upside Down Cake
Assorted Cookies and Brownies
BIG MAHALO to Pacific Media Group, Mehana Brewing Company, Big Island Tents, Show Systems Hawaii, Paradise Gourmet Catering and al of the staff at Lava Lava Beach Club!