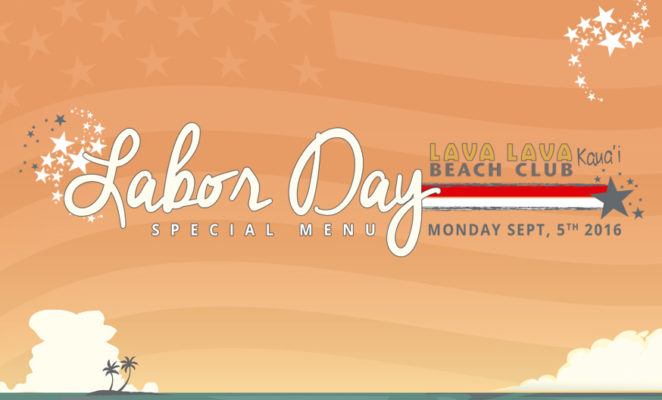 Weʻre serving up some special LUNCH and DINNER items featuring FRESH and LOCAL ingredients for Labor Day 2016 at Lava Lava Beach Club in Waikoloa! Weʻll have two menus available for dining as well as our regular menus!
For lunch you can order a fun appetizer weʻre calling "Frickles" – Beer batter dipped Kosher dill spears, SriRANCHa for dipping OR you can choose our ʻono (delicious) Fried Chicken Sandwich – Seasoned breadcrumb crusted chicken breast, Mamane Bakery bun, roasted Ka'u corn relish, grilled Maui onion, lettuce, tomato, Potato mac salad
Weʻll continue offering the Frickles for Dinner and will add a Grilled Duroc Pork T-Bone entree option – with Peach BBQ Duroc Pork T-Bone, Spicy peach BBQ sauce, braised greens from the Turnip Wagon farm, roasted Ka'u corn mashed potatoes, hush puppies.
Be sure to check out our regular menu as well!
Donʻt forget to make reservations – 808-769-5282(LAVA)!