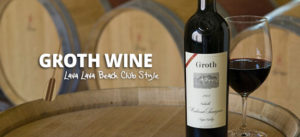 Our friends at Groth Vineyards and Winery in the heart of Napa Valley hosted their Annual Board Meeting on Hawaii Island this month and we were delighted to host them at both Huggo's in Kailua-Kona and at Lava Lava Beach Club at Waikoloa Beach Resort.While there was one day of meetings most of the 5-day trip was devoted to fun led by the winemaker himself, Michael Weis!
With 20 years of creative genius guiding the team at Groth, Weis has taken the winery's award-winning Cabernet Sauvignon and Sauvignon Blanc to soaring new heights.
Sizzling Shrimp, Standing Seared Ahi Nacho's and the Classic Teriyaki Steak were among some of the favorites, according to these distinguished palates! Be sure to check out the FULL menu before your next visit!
Mahalo for sharing your delicious, fine wines with us – needless to say, we look forward to welcoming you back very soon!