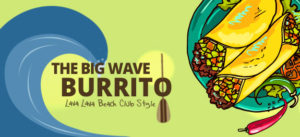 Recently, a Facebook friend asked if they could get the recipe to one of our menu items served ONLY during our Bloody Mary Beach Brunch on Saturdays and Sundays! Luckily, Chef Beth was willling to part with this ono (delicious) island-inspired breakfast burrito recipe!
BIG WAVE BURRITO
4 ea large eggs
2 oz shredded cheddar cheese
2 oz shredded Montery Jack cheese
1/3rd cup diced onion
1/3 cup diced red bell pepper
2 oz fresh spinach leaves
6 oz crisp French fries
2 ea 12" spinach tortillas
2 oz Chipotle sour cream (recipe follows)
3 oz Spicy Tomato Sauce (recipe follows)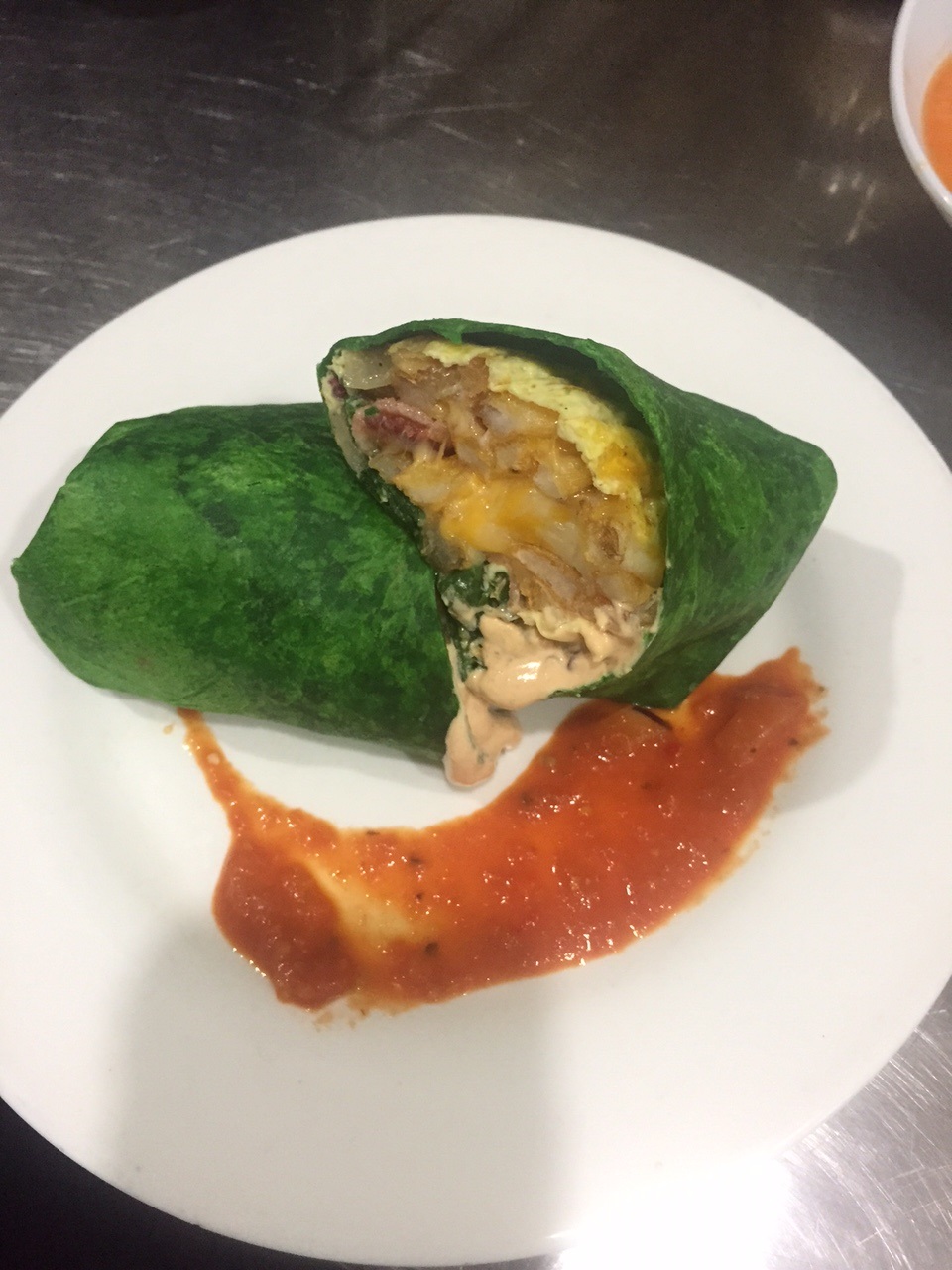 Whisk eggs, season with salt and pepper and set aside.
Shred cheeses and set aside.
Saute onions and red bell peppers in a non stick skillet. When they soften add the spinach and cook until wilted. Add eggs and cook stirring gently until set and no longer runny. Top with cheese and set aside to keep warm.
Heat a flat griddle or large skillet and warm the tortillas. Lay the warm tortillas on a flat surface and distribute the egg mixture evenly between them. Spoon 1 oz of the chipotle sour cream on top of the eggs and top that with the French fries. Roll the burrito and serve with spicy tomato sauce on the side.
SPICY TOMATO SAUCE
1 cup red bell pepper, diced
½ jalapeno, diced
1 cup yellow onion, diced
3 tablespoons vegetable oil
2 tablespoons chopped garlic
1 tablespoon cumin
1 teaspoons cayenne
1 tablespoon black pepper
2 oz white wine
Kosher Salt to taste
2 cans Crushed tomatoes in puree or diced tomatoes in juice
Saute red bell pepper, onion and jalapeno in vegetable oil until softened. Add garlic, cumin, cayenne and black pepper. Cook until fragrant and de glaze with white wine. Add tomatoes and reduce heat. Simmer until vegetables are very soft. Season with Kosher salt to taste. Using an immersion blender or food processor, puree the sauce until smooth. DO NOT use a blender. Hot liquids expand and can cause injury when placed in a blender.
CHIPOTLE SOUR CREAM
1 cup sour cream
2 ea chipotle pepper in adobo
1 oz lime juice
Finely mince the chipotles and mix all ingredients together.
Come enjoy one during brunch this weekend! Be sure to stop by our sister restaurant, Huggoʻs, in Kailua-Kona, as they serve it for breakfast DAILY from 7AM – 11AM!